I Love Juicy
Shampoo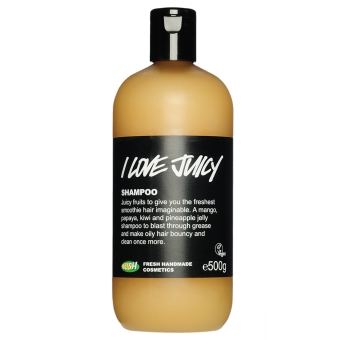 Packed with fresh fruit to deeply cleanse and clarify hair. This is a fruit cocktail for the hair to cleanse and refresh it, softening seaweed to leave your locks super-shiny once they're extra-clean. Freshly juiced pineapples, kiwi, mango and papaya are full of enzymes that help break down excess sebum (oil) on the scalp, leaving hair looking and feeling fresh and clean.
List of ingredients
Natural Ingredients
Safe Synthetics
*occurs naturally in essential oils.
We do not test our finished products on animals. We also only purchase from ingredient suppliers who do not test on animals. More.
Was given a sample to try because my hair is Chemically treated and I am cautious about what I use on my hair. Love this!! Great lemony scent, lathers up really well with only a small amount of product (finger dipped worth) and my hair smells amazing after!! Beautiful soft clean hair. I am getting the largest bottle I can get my hands on next Monday
Latest
1 year ago
Samobie7
About 1 year ago
I really struggle with eczema on my scalp and my head becomes full of scabs and get getvtgat 'wet dog' smell. I got the I Love Juicy Shampoo and i fell in love! It stripped all grease from my hair, acted as an anti-inflammatory to the eczema and I love the smell. With eczema you can't overwash your hair and with this product, I don't have to wash my hair so often. Also a plus is how little of the product you use and I have thick hair!
Most Recent
Most Recent
Most Helpful
Top Rated