Grease Lightning
Spot Treatment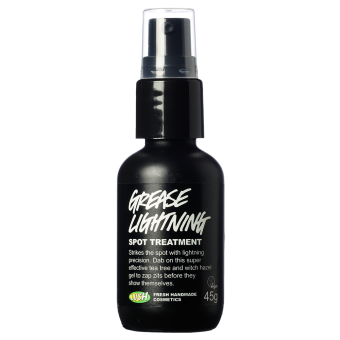 Grease Lightning is a powerful combination of ingredients that will nip any breakouts in the bud without upsetting the skin around them. We use an infusion of antibacterial and antiseptic rosemary, thyme and tea tree, as well as antioxidant-rich grape juice and witch hazel, which is astringent and anti-inflammatory and is said to soothe redness. This product is ideally applied when you feel a spot is about to erupt - prevention is better than cure. 
List of ingredients
Natural Ingredients
Safe Synthetics
*occurs naturally in essential oils.
We do not test our finished products on animals. We also only purchase from ingredient suppliers who do not test on animals. More.
Love it love it love it love it! I have quite oily skin and use appropriate cleansers, face masks and moisturisers. I have tried spot treatments from other companies but not had much luck. I was given Grease Lightning as a gift and didn't think it would be able to help me. but one day i tried it and found that when applied day & night, my pimples were going in approx 3 days! Now I use it as soon as I start to see one starting and they never even make it! HIGHLY RECOMMEND!
Latest
5 years ago
Natasha
About 5 years ago
This makes my skin so dry that it looks like peeling paint. It's not bad but I don't think it is all that effective with serious acne. The good thing is that it is cooling and doesn't smell bad.
Most Recent
Most Recent
Most Helpful
Top Rated