Grease Lightning
Spot Treatment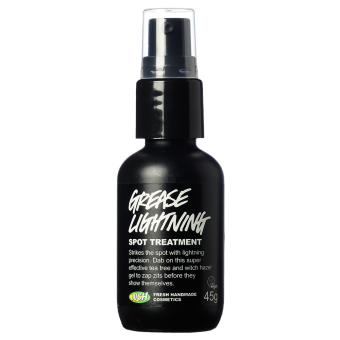 When your skin needs to shape up there's no need to lose control. The (natural) power that antibacterial tea tree and witch hazel are supplying is purifying while antioxidant-rich grape juice helps to cleanse and soothe. If you're hopelessly devoted to clear skin, apply with a finger as often as you like. So easy even a beauty school drop-out could do it.
List of ingredients
Natural Ingredients
Safe Synthetics
*occurs naturally in essential oils.
We do not test our finished products on animals. We also only purchase from ingredient suppliers who do not test on animals. More.
Love it love it love it love it! I have quite oily skin and use appropriate cleansers, face masks and moisturisers. I have tried spot treatments from other companies but not had much luck. I was given Grease Lightning as a gift and didn't think it would be able to help me. but one day i tried it and found that when applied day & night, my pimples were going in approx 3 days! Now I use it as soon as I start to see one starting and they never even make it! HIGHLY RECOMMEND!
Latest
4 months ago
laurengitelson_15194
About 4 months ago
best spot treatment I've ever used - and I've tried quite a few. just make sure to use it consistently and as early as you can after a breakout. I apply a thin layer every 5 hours or so
Most Recent
Most Recent
Most Helpful
Top Rated